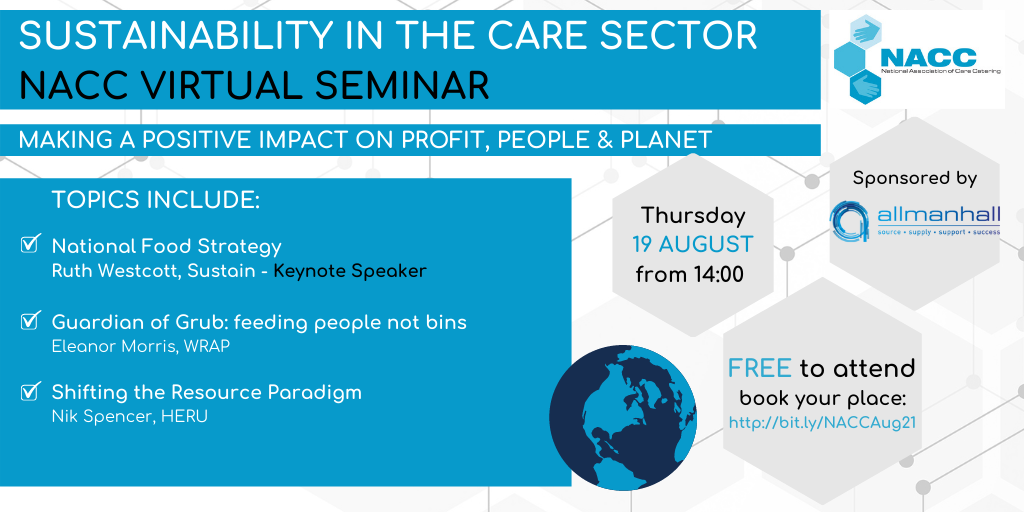 SUSTAINABILITY IN THE CARE SECTOR
"Making a positive impact on profit, people and plant"
This seminar is taking place on Thursday 19th August from 2:00pm via Zoom.
REGISTER FOR FREE HERE >
http://bit.ly/NACCAug21
Click here to view the provisional Agenda.
Presentations Include:
Keynote Speaker

- National Food Strategy
Ruth Westcott, Sustain
Guardians of Grub: feeding people not bins
Eleanor Morris, WRAP

Shifting the Resource Paradigm
Nik Spencer, HERU

Sourcing Sustainable Fisheries and Aquaculture - The Global Seafood Alliance
Mike Berthet, Director, Aquaesea Limited

Linking Environment and Farm (LEAF)
Caroline Drummond MBE, Chief Executive, LEAF

Sustainable Procurement
Oliver Hall and Jo Hall, allmanhall
This seminar is kindly sponsored by

allmanhall
Our hosts are David Barker, North Regional Chair and David Blackwood, Scottish Regional Chair.