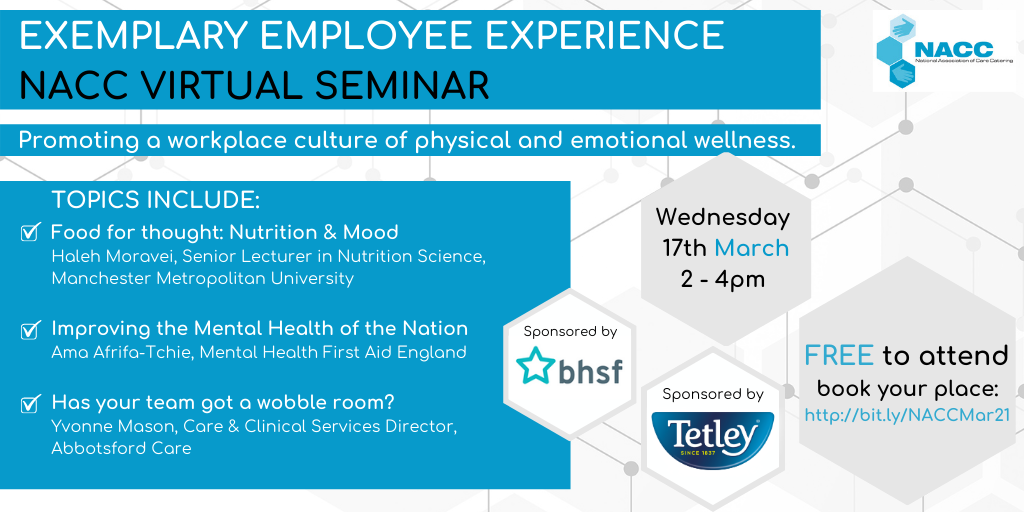 EXEMPLARY EMPLOYEE EXPERIENCE
"It's important now more than ever we look after everyone working in our industry"
Taking place on Wednesday 17th March, 2:00pm to 4:00pm via Zoom.
This seminar is FREE to attend and everyone is welcome, book your place here > http://bit.ly/NACCMar21
Click here to view the Agenda.
Theme: Promoting a workplace culture of phsyical and emotional wellness.
Presentations Include:
Food for thought when you're not full of beans
Baroness Barker (NACC Patron) has worked on a wide range of legislation relating to health and social care and is a longstanding member of the All-Party Parliamentary Group on Older People.



Nutrition and Anxiety – the link between food and mental well-being


Dave Smithson, Services Manager - Anxiety UK



Food for thought: Nutrition & Mood


Haleh Moravei, Senior Lecturer in Nutrition Sciences, Manchester Metropolitan University, Department of Health Professions, Faculty of Health, Psychology and Social Care

Supporting Current and Former Care Workers
The Care Workers Charity



BHSF Connect App', Health and Wellbeing services at your fingertips!


Paul Nugent, Regional Development Manager, BHSF

Improving the Mental Health of the Nation
Ama Afrifa-Tchie, Head of People, Wellbeing & Equity, Mental Health First Aid England

Has your team got a wobble room?
Yvonne Manson - Care and Clinical Services Director, Abbotsford Care

Relax, Rejuvenate and Re-hydrate with a Cuppa, courtesy of Tetley - The Journey of Tea from Crop to Cup
Tim Russell, Senior Business Manager, Tetley
This seminar is kindly sponsored by

Teltey

and

BHSF


Our hosts are David Barker, North Regional Chair and David Blackwood, Scottish Regional Chair.