VIEW OUR GALLERY FROM 2021 HERE

The NACC Training & Development Forum 2021 took place on the 6 - 8 October 2021, at the East Midlands Conference Centre, Nottingham.

A tailored and unique training event for professionals providing catering to the care industry, with a packed two-day schedule of keynote speakers, certified training workshops, cookery demonstrations, meet-the-buyer meetings, exhibition viewing and loads of networking, the NACC Training & Development Forum 2021 is the place to be to inspire you to make those changes in your care provision after these uncertain times.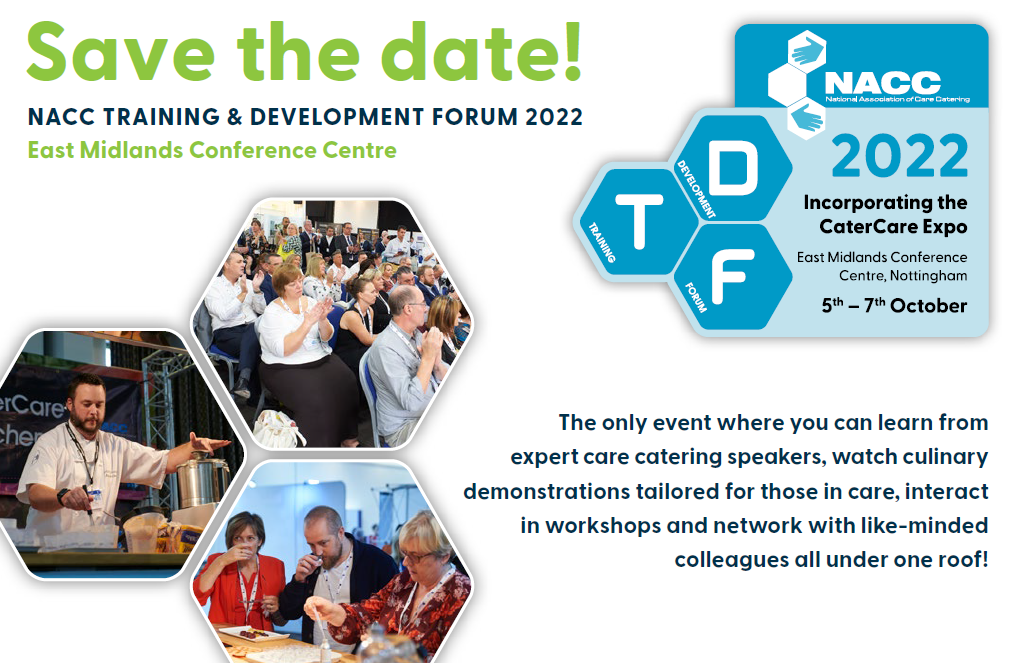 WHAT YOU'LL EXPERIENCE AND LEARN...

The NACC Training & Development Forum is a dynamic and interactive event with clear objectives to inform, update and inspire delegates to instantly boost your business's catering provision. By investing in this training programme, you and your staff will ensure your care establishment stays ahead of the latest innovations, ideas and guidelines relating to care catering.
The two-day event will keep you engaged, energised and entertained and will enable you to:
Gain new perspectives and ideas through relevant, thought provoking speakers

Take part in tastings and group discussions

Network, compare notes and exchange ideas with likeminded colleagues who face the same challenges as you do day to day

Pick up some top tips, skills, knowledge on essential ingredients and the best way to incorporate these into your menus

Gain a view into the future of the care sector and how you can prepareHave discussions on some emerging studies within the field of nutrition and healthcare

Gain knowledge of the causes and effects of malnutirition and discussions on common strategies to ensure optimal provision of nutrition and hydration in every care setting

Learn tips on consistency and delicious ways of enhancing the overall healthcare dining experience

Learn practical and proven techniques to take back and implement in your care establishmen

t

"Great speakers, great workshops - I wish I could have done all of them."
Anne Dudley, Catering Support Officer, Hampshire County Council

"Good combination of topics and workshops. Sufficient exhibition viewing time and networking."
Jacquie Blake, Commercial Operations Manager, Nottingham City Council

"Loved the workshops and meet the buyer."
Melaine Large, Head of Catering Operations, Norse Commercial Services

"Great chance to network with people from within our industry."
Jason Todd, Head of Catering, Royal British Legion




If you would like further information on the NACC Training & Development Forum, please call us on 08707 480180 or email info@thenacc.co.uk