Contact:
Canal Road,
Trowbridge,
Wiltshire
BA14 8R
Tel: 01225 756 071
Twitter: @apetitouk
View All Partners
Next Partner
Previous Partner
Apetito is the UK's leading food producer for the health and social care sector, providing delicious, nutritious and sustainable meals for people at home or in care.
We've spent the past 60 years perfecting meals that both nourish and delight customers whatever their circumstances, whether at home, in hospital or in care. We're proud of our food and the difference it makes to those who eat it. We're equally proud of the way we operate –in a way that respects the environment, people and our wider community as a whole. We have always believed that our meals should taste delicious but a great meal is much more than great food. It sustains healthy living and can really make a difference to customers and patients'lives and this philosophy sits at the heart of apetito.
EATING FOR HEALTH –FOOD FOR THE NUTRITIONALLY WELL AND NUTRITIONALLY VULNERABLE Food in health and social care environments is vital in supporting good health and recovery. The right food can ensure unnecessarily long hospital stays are avoided and keep people where they want to be – in their own homes. This benefits individuals and helps our health and social care system save money too. It is essential to meet the needs of both the nutritionally well and the nutritionally vulnerable. For the nutritionally vulnerable a ͞healthy diet͟ can often be very different. Many older people are malnourished, often with suppressed diets – so they may need energy dense foods that are high in calories and nutrients. Apetito, offers the UK's widest range of delicious and nutritious prepared meals for both the nutritionally well and nutritionally vulnerable.
Each recipe is developed by our chefs to precise nutritional standards – in line with British Dietetic Association & NACC guidelines. Of course, if we've learnt anything, it's that everyone should look forward to mealtimes. It's why our meals are familiar and delicious as well as nutritious, encouraging appetite and minimising wasted food at the end of the meal. We cater for a wide range of dietary needs and are proud to have won a Queen's Award for Enterprise in Innovation for our range of texture modified meals for those living with dysphagia. We are confident these products are the best in the world and are truly making a real difference to people's lives.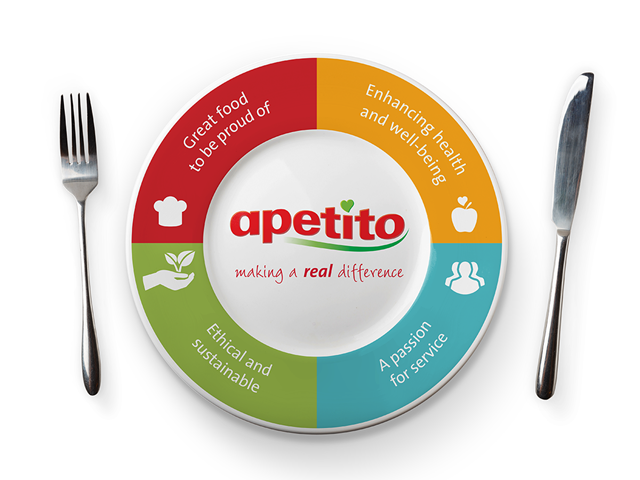 MORE THAN JUST A MEAL apetito is proud to support our market-leading meals with world-class systems and outstanding service too. Our aim is to always offer businesses and end users alike a fantastic personal experience that really makes a difference to them. As part of each hot meal delivery, apetito drivers will check on the wellbeing of every client they deliver to, ensuring they are safe and well. Drivers will never leave a meal at any client's premises without a response or explanation from the individual or next of kin. Providing this social contact, which provides such peace of mind and helps to make our clients feel special, is a crucial part of the service –prolonged loneliness or social isolation can cause people to lose their appetites or choose not to eat. Sometimes a driver can be the only person that client sees that day, so we have to make each visit special. A regular hot meal, which provides one third of an elderly person's daily nutritional intake, can also help to prevent instances of malnutrition; a condition which costs an estimated £13bn in the UK, twice that of obesity. Keeping people out of hospitals and care homes for longer is not only good for individuals and their families, but it's good for the economy too. Our Chef mobil meals-on-wheels regeneration system is unique to apetito. Using a triple oven method that staggers cooking times, the vehicle heats meals en-route to the service user, ensuring each meal is at its optimum both nutritionally and from a quality perspective. Over 5 million apetito meals a year are now served in the UK using this technology. With an overstretched health and social care system, tightening budgets and an ageing population, services that routinely look out for people in their own home are more vital than ever. Clearly the retention of Local Authority Community Meals on Wheels services in the coming years can play a significant role in ensuring these objectives are met.

CARE HOMES As well as our Local Authority relationships, apetito also offers bespoke services to Care Homes. We understand the challenges of managing staff, resources, legislation and budgets, which is why we aim to become like business partners, helping care homes be as efficient and as effective as possible and raising standards along the way. We provide great-tasting food and a system that is easy to use, cost beneficial, labour saving and space sensitive. We understand that meal times are often the highlight of a care home resident's day, which is why we offer over 200 tasty dishes for residents. Our nutritionally-balanced menus meet CQC* standards and all our meals are prepared by expert chefs in our kitchen; meaning only minimum preparations need to be carried out – now that's care.

*CSSIW – Care and Social Services Inspectorate Wales, Care Inspectorate, Scotland.