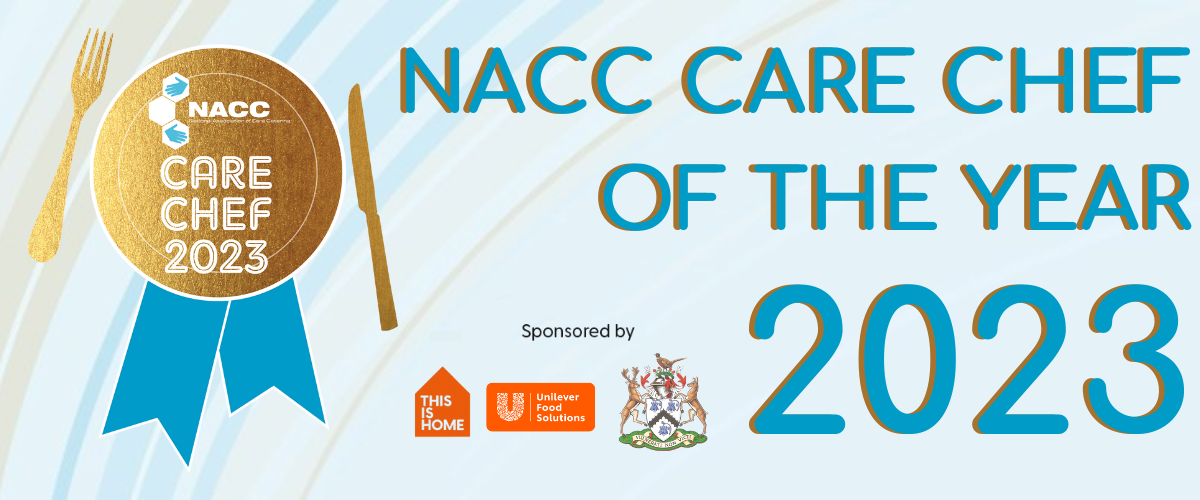 The National Association of Care Catering (NACC) Care Chef of the Year competition provides an excellent platform to recognise the excellence of Chefs working in our sector. The competition provides opportunity for a member of your team to achieve this accolade and join the exclusive club of title holders to be crowned Care Chef of the Year.

It is not only open to those working in care homes but also extends to local authorities and other care organisations including hospices. The NACC Care Chef competition is the longest standing care chef competition in the UK, that continually challenges people who operate within the care sector to devise innovative and exciting recipes whilst adhering to a strict budget and meeting the nutritional needs of their clientele. It aspires to raise the profile of catering in the care sector and the excellence achieved by those working within it nationally.

Have you watched the Chef of the Year competition before and thought that you, or one of your team, could do as well – or even better?
Well, the hunt is on to find this year's top chef, who will follow in the footsteps of the 2022 Champion, Chris Pickard.

We encourage participation in this competition as it is a very effective means of raising the profile of care catering, and puts presentation and creativity skills to the test. It is a very useful tool in the workplace with regard to staff development.

This year's competition is kindly sponsored by Unilever Food Solutions and Worshipful Company of Cooks.
PREVIOUS WINNERS
| | | | |
| --- | --- | --- | --- |
| 2000 - Cliff Hamilton | 2006 - Garry Maundrill | 2012 - Ellie Cook | 2018 - John Grover |
| 2001 - Paula McAllister | 2007 - Partick Moore | 2013 -Simon Lawrence | 2019 - Martin McKee |
| 2002 - Amanda Steel | 2008 - Gareth Cartledge | 2014 - Jenny-May Smith | 2020 - Tim Ware |
| 2003 - Barbara Walker | 2009 - Mark Wilkinson | 2015 - Oliver Smith | 2021 - Aaron Watson |
| 2004 - Judy Reynolds | 2010 - Craig Dewhurst | 2016 - Alex Morte | 2022 - Chris Pickard |
| 2005 - Gary Brailsford | 2011 - Malcolm Shipton | 2017 - Stuart Middleton | |
COMPETITION OVERVIEW
The competition is open to all chefs/cooks in the care sector. Following on from the success of the format from our 2022 competition, we will continue with requiring two finalists from each region to go forward to the final on 3rd October 2023 at a venue to be confirmed.

Entries continue to be sought from all sectors of the care market and both NACC members and non-members* are welcome to take part throughout the UK.
With the 23 previous winners of this illustrious title proudly displaying their award in their place of work, are you the next to generate a winning recipe?
WHAT IS REQUIRED?
We are looking for a two course menu, main course and dessert, suitable for service users in a care setting. The combined food cost for both courses should be no more than £3.50 per head based on three portions and the meal should be nutritionally balanced and incorporate one of the Unilever Food Solution's products as listed in the competition rules 9.

Each contestant will be given 90 minutes to produce the meal.
JUDGING
Our panel of experts will view your entries and regional cook offs will take place in June and then the best two from each of the six NACC regions will be invited to a cook off in the final on 3rd October 2023. The location of the final will be confirmed closer to the time. All entries must state the client group they are suitable for, but will be served in a competition style for the final. The judges' decision is final and no correspondence will be entered into.
2023 REGIONAL HEATS
Midlands | 12 June 2023, Leicester College
North | 15 June 2023, Middlesborough College
Scotland | 16 June 2023, New College Lanarkshire
South East | 14 June 2023, Unilever House
South West | 27 June 2023, Exter University