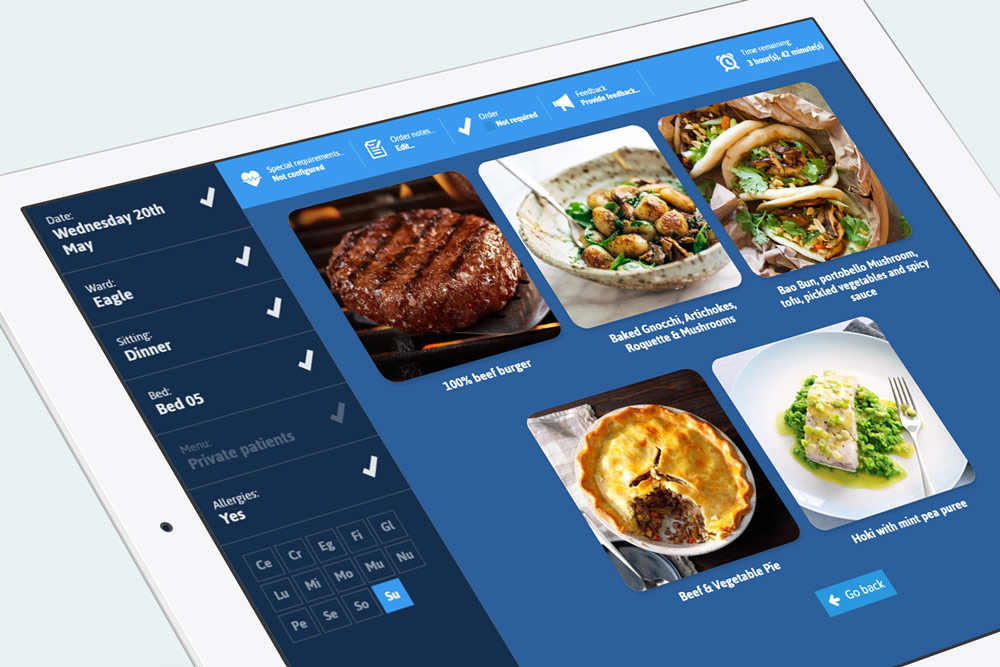 Pelican Procurement Services (Pelican), the procurement and supply chain management specialist, has today announced the launch of a new bedside menu ordering module. Pelican's Picnic application provides a smarter, efficient and easier way for patients to order their mealtime food and drinks, whilst receiving care in hospital.
The Picnic module fully integrates with the Pelican Pi cloud-based procurement system and enables ward staff to quickly capture patients' menu preferences via a tablet device. The customisable system tracks the order by ward and bed and enables the kitchen to see choices as they are made, in real time, to fulfil orders as efficiently as possible.
For patients, it provides a simple, user-friendly way of ordering drinks, snacks and meals, with photos and descriptions of all available choices. Any potential allergens, cultural, medical or dietary requirements can be flagged so appropriate choices are made.
Picnic enables hospitals to create a range of menus with fully-costed recipes, which integrates with the organisations' overall Pi procurement system. This means they can automatically track budgets, stock, meal preferences and importantly provide complete nutritional and allergen information on every ingredient used in each dish.
Matt Ferris, product manager at Pelican Procurement Services said, "The Picnic module has been developed in direct consultation with NHS hospitals and provides a big leap forward in solving many problems relating to bedside food and beverage ordering – much of which continues to be paper-based or not integrated with existing procurement and stock control systems.
"Picnic takes menu ordering fully digital. Now, patients can easily select what they want, which is relayed to the kitchen in real-time, plus it includes a feedback function giving patients the ability to rate their meal or provide recommendations back to the kitchen.
"From a management perspective, it gives catering managers access to live stock control tracking, meaning every menu choice is recorded so the kitchen can better understand patient preferences to help them plan future menu production to meet demand. By having complete visibility of spend analysis by recipe, it also means that budgets can be analysed by cost centres, nominals or by wards, giving better overall budgetary control."
Picnic is a module of the cloud-based Pi system, which centralises procurement for organisations. It includes invoice management, menu development and management, stock control and budget tracking. It also provides transparent reporting, so at any time managers and chefs can see which products are being ordered, and details such as cost per serve can be quickly calculated.
Developed from the ground-up in-house by Pelican's development team, Picnic's features can be customised depending on need, making it appropriate for care homes, hospices and schools.
Franco Scannella, Managing Director at Pelican Procurement Services concludes: "The feedback we have received from the hospitals involved in the development of Picnic has been extremely positive. The new module provides benefits not only to the patients receiving care, but to the catering staff, those taking the orders on the wards, and to managers who now have the ability to accurately analyse menu ordering trends in addition to budgetary data within the overall Pelican Pi dashboard."
For more information regarding Pelican's range of procurement services and cloud based systems, telephone 01252 705 222 or visit
www.pelicanprocurement.co.uk